Dr. Dre Beat Headphones are considered to be the most high class headphones you can purchase on the market. Using incredible technology every sound that comes out of the headphones sounds absolutely beautiful and crisp to the ear. The cheapest pair of these headphones cost $100 while the most expensive pair will run you roughly $600. Apple reportedly is near the end of a deal to acquire Beats Audio for $3.2 Billion.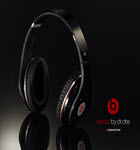 The only question is why would Apple want to purchase Beats Audio. The answer is simple, Beats Audio has technology and speakers that can be built in mobile phones or computers. Essentially Apple would be able to create an incredible sound experience alongside iTunes with the Beats Audio. They would be able to put quality speakers in their iPhone, iPad and iMac Products. This would result in Apple's sales increasing and their investment being returned in a matter of a decade.
All employees at Beats Audio will remain at their jobs as the company just being directly sold to Apple from Dr. Dre. All contacts to Beats Audio will also remain alongside the company, essentially Apple will just take over as management and they'll be able to continue creating the quality experience that is known with Beats Audio Headphones.
As always we shall continue to keep you informed on any information released pertaining towards Apple purchasing the Beats Audio Brand.